HAZARDOUS WASTE DROP OFF DEPOT
Turning Hazard into Harmony: Safeguarding Vancouver, One Barrel at a Time
HAZARDOUS WASTE DROP OFF DEPOT
Now you don't need to keep your Hazardous waste disposal in BC, in your backyards, garages or other places. Canadian Empire Recycling has a Hazardous Waste Drop off Depot in BC, for residentials to bring their Hazardous waste. Our team of experts will classify your waste and dispose of it properly.
Note: Household Hazardous Waste (HHW) must not be put in garbage, or poured down the drain, toilet or sewer. Improper disposal of Household Hazardous Waste has negative effects on our environment and can be harmful to humans and animals.
You can bring chemical waste to our location for proper disposal at (#107-13119 84 Ave., Surrey, BC V3W1B3). You can contact us to get more information about our drop off services at 604 889-2377.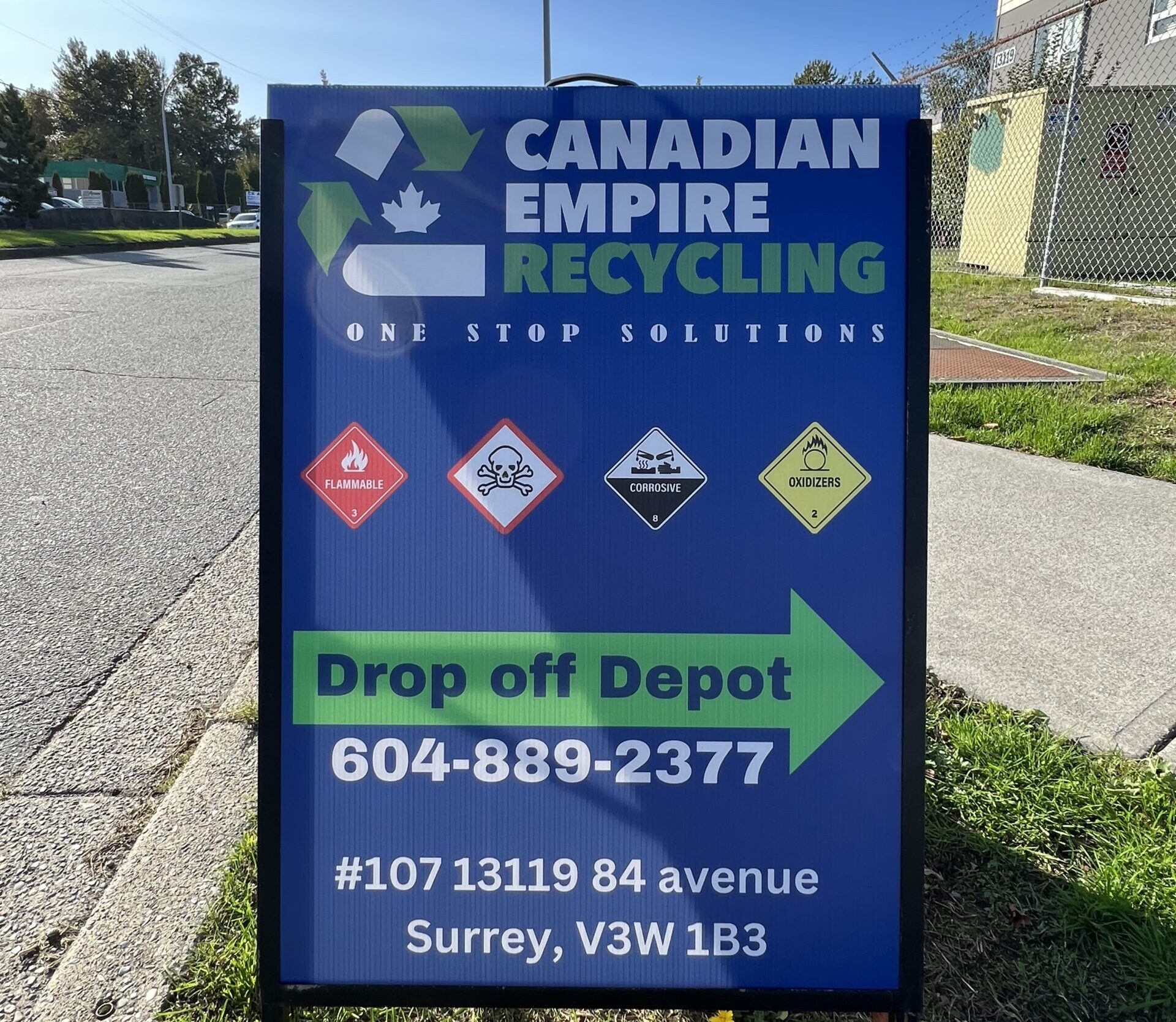 Car and Garage Products
Antifreeze
 Car batteries
 Brake fluid
 Body filler
Car wax with solvent
Motor oil (new and used)
Fuel (gasoline, diesel, kerosene)
Oil filters (new and used)
 Windshield washer fluid
Personal Care Products
Alcohol-based lotions (aftershave, perfume, etc.)
Medication and vitamins
Nail polish and remover
Syringes and medical sharps must be put in a puncture-resistant sealed container.
 Aerosol cans
Household Cleaning Products
Ammonia-based cleaners
Corrosive waste
Abrasive powders
Bleach
Drain cleaners.
Floor and furniture polish
Metal and oven cleaner
Disinfectants
Glass and mirror cleaner
Rug and upholstery cleaner
Silver polish
Pesticides and Garden Products
Poisons (ant, rat, bug, etc.)
 Fertilizers
 Fungicides
Insecticides
 Weed killers (herbicides)
Paints, Solvents, Glue
Spray paint
Latex, oil and water-based paint
Paint strippers
Primers
Rust removers
Stains
Thinners
Turpentine
 Wood preservatives
 Glue
Other
Air freshener
Batteries (all types)
 Compact florescent lamps (CFLs)
 Cooking oil
 Fluorescent tubes
 Propane/helium tanks
 Swimming pool chemicals
 Mercury thermometers
 Lighter fluid
MATERIALS WE DON'T ACCEPT
Have questions or ready to get started? Contact us today!
Canadian Empire Recycling
At Canadian Empire Recycling, our commitment to sustainability drives us to recycle everything, leaving no waste behind. As the premier waste diversion company, we take pride in being your ultimate one-stop solution for responsible waste management. What sets us apart? We're not just another option – we're the best.
Address
13119 84 Ave #107, Surrey, BC, V3W 1B3